Supreme Sojourn
on Insignia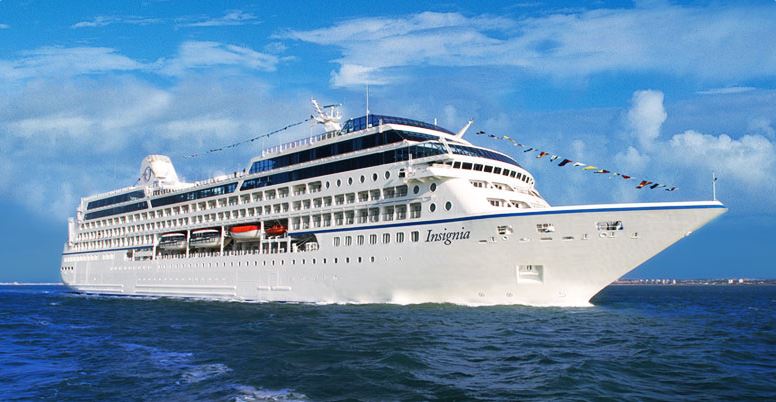 On this magnificent seven-month odyssey, you'll leave no stone unturned from the most desirable treasures of South America to the savannas of Africa and from the temples and bamboo forests of Japan to the cobalt blue glaciers of Alaska.

Formed in 2002 by luxury cruise industry veterans Frank Del Rio, Joe Watters and Bob Binder, Oceania Cruises is the world's largest upper premium cruise line. The Finest Cuisine at Sea
®
, Destination Specialists and Small & Luxurious Ships are the pillars that define Oceania Cruises' five-star product, positioning the line as the cruise company of choice for travelers seeking a truly refined and casually elegant travel experience.
Featuring a fleet of small, luxurious ships,
...
Cat. C2, OLife: Amenities, airfare from select gateways
| Day | Port | Arrive | Depart |
| --- | --- | --- | --- |
| 1 | Miami | | 7:00 PM |
| 2 | Cruising The Straits Of Florida | | |
| 3 | George Town | 11:00 AM | 7:00 PM |
| 4 | Cruising The Caribbean Sea | | |
| 5 | Cartagena | 8:00 AM | 1:00 PM |
| 6 | Panama Canal Daylight Transit | | |
| 7 | Cruising The Pacific Ocean | | |
| 8 | San Juan Del Sur | 8:00 AM | 5:00 PM |
| 9 | Acajutla | 10:00 AM | 8:00 PM |
| 10 | Puerto Chiapas | 8:00 AM | 4:00 PM |
| 11 | Cruising The Pacific Ocean | | |
| 12 | Manzanillo | 12:00 PM | 9:00 PM |
| 13 | Puerto Vallarta | 9:00 AM | 6:00 PM |
| 14 | Mazatlan | 8:00 AM | 6:00 PM |
| 15 | Cabo San Lucas | 8:00 AM | 5:00 PM |
| 16 | Cruising The Pacific Ocean | | |
| 17 | San Diego | 11:00 AM | 10:00 PM |
| 18 | Cruising The Pacific Ocean | | |
| 19 | San Francisco | 6:00 AM | 11:00 PM |
| 20 | Cruising The Pacific Ocean | | |
| 21 | Ensenada | 8:00 AM | 5:00 PM |
| 22 | Cruising The Pacific Ocean | | |
| 23 | Cruising The Pacific Ocean | | |
| 24 | Manzanillo | 10:00 AM | 7:00 PM |
| 25 | Zihuatanejo (Ixtapa) | 10:00 AM | 7:00 PM |
| 26 | Acapulco | 8:00 AM | 6:00 PM |
| 27 | Cruising The Pacific Ocean | | |
| 28 | Puerto Chiapas | 8:00 AM | 6:00 PM |
| 29 | Puerto Quetzal | 8:00 AM | 9:00 PM |
| 30 | Acajutla | 7:00 AM | 5:00 PM |
| 31 | Cruising The Pacific Ocean | | |
| 32 | Cruising The Pacific Ocean | | |
| 33 | Manta | 5:00 AM | 6:00 PM |
| 34 | Cruising The Pacific Ocean | | |
| 35 | Salaverry | 5:00 AM | 4:00 PM |
| 36 | Lima/Machu Picchu (Callao) | 10:00 AM | 11:00 PM |
| 37 | Pisco/Nazca Lines | 8:00 AM | 7:00 PM |
| 38 | Cruising The Pacific Ocean | | |
| 39 | Arica | 8:00 AM | 6:00 PM |
| 40 | Iquique | 8:00 AM | 6:00 PM |
| 41 | Cruising The Pacific Ocean | | |
| 42 | Coquimbo | 7:00 AM | 4:00 PM |
| 43 | Santiago De Chile (San Antonio) | 7:00 AM | 7:00 PM |
| 44 | Cruising The Pacific Ocean | | |
| 45 | Puerto Montt | 8:00 AM | 5:00 PM |
| 46 | Puerto Chacabuco | 11:00 AM | 8:00 PM |
| 47 | Cruising The Chilean Fjords | | |
| 48 | Cruising The Chilean Fjords | | |
| 49 | Punta Arenas | 7:00 AM | 4:00 PM |
| 50 | Ushuaia | 11:00 AM | 8:00 PM |
| 51 | Cruising The Drake Passage | | |
| 52 | Cruising By Admiralty Bay, Antarctica | | |
| 53 | Cruising By Paradise Bay, Antarctica | | |
| 54 | Cruising By Half Moon Island, Antarctica | | |
| 55 | Cruising The Drake Passage | | |
| 56 | Port Stanley | 7:00 AM | 6:00 PM |
| 57 | Cruising The Atlantic Ocean | | |
| 58 | Cruising The Atlantic Ocean | | |
| 59 | Punta Del Este | 8:00 AM | 6:00 PM |
| 60 | Buenos Aires | 8:00 AM | |
| 61 | Buenos Aires | | 7:00 PM |
| 62 | Montevideo | 8:00 AM | 6:00 PM |
| 63 | Cruising The Atlantic Ocean | | |
| 64 | Cruising The Atlantic Ocean | | |
| 65 | Sao Paulo (Santos) | 7:00 AM | 6:00 PM |
| 66 | Rio De Janeiro | 9:00 AM | |
| 67 | Rio De Janeiro | | 7:00 PM |
| 68 | Cabo Frio | 8:00 AM | 4:00 PM |
| 69 | Vitoria | 8:00 AM | 6:00 PM |
| 70 | Cruising The Atlantic Ocean | | |
| 71 | Salvador | 7:00 AM | 5:00 PM |
| 72 | Maceio | 11:00 AM | 8:00 PM |
| 73 | Recife | 8:00 AM | 6:00 PM |
| 74 | Natal | 7:00 AM | 4:00 PM |
| 75 | Fortaleza | 9:00 AM | 6:00 PM |
| 76 | Cruising The Atlantic Ocean | | |
| 77 | Cruising The Atlantic Ocean | | |
| 78 | Cruising The Atlantic Ocean | | |
| 79 | Mindelo (Sao Vicente) | 10:00 AM | 7:00 PM |
| 80 | Cruising The Atlantic Ocean | | |
| 81 | Dakar | 8:00 AM | 6:00 PM |
| 82 | Banjul | 7:00 AM | 4:00 PM |
| 83 | Cruising The Atlantic Ocean | | |
| 84 | Cruising The Atlantic Ocean | | |
| 85 | Abidjan | 10:00 AM | 7:00 PM |
| 86 | Sekondi-Takoradi | 8:00 AM | 5:00 PM |
| 87 | Lome | 9:00 AM | 7:00 PM |
| 88 | Cotonou | 7:00 AM | 6:00 PM |
| 89 | Cruising The Gulf Of Guinea | | |
| 90 | Sao Tome | 8:00 AM | 4:00 PM |
| 91 | Cruising The Atlantic Ocean | | |
| 92 | Cruising The Atlantic Ocean | | |
| 93 | Cruising The Atlantic Ocean | | |
| 94 | Walvis Bay | 8:00 AM | |
| 95 | Walvis Bay | | 5:00 PM |
| 96 | Luderitz | 9:00 AM | 6:00 PM |
| 97 | Cruising The Atlantic Ocean | | |
| 98 | Cape Town | 8:00 AM | |
| 99 | Cape Town | | |
| 100 | Cape Town | | 4:00 PM |
| 101 | Mossel Bay | 9:00 AM | 6:00 PM |
| 102 | Cruising The Indian Ocean | | |
| 103 | Durban | 8:00 AM | 9:00 PM |
| 104 | Richards Bay | 6:00 AM | 4:00 PM |
| 105 | Maputo | 8:00 AM | 5:00 PM |
| 106 | Cruising The Mozambique Channel | | |
| 107 | Cruising The Mozambique Channel | | |
| 108 | Mayotte | 11:00 AM | 7:00 PM |
| 109 | Nosy Be | 9:00 AM | 5:00 PM |
| 110 | Cruising The Indian Ocean | | |
| 111 | Mahe | 1:00 PM | |
| 112 | Mahe | | 4:00 AM |
| 112 | La Digue | 8:00 AM | 4:00 PM |
| 113 | Cruising The Indian Ocean | | |
| 114 | Cruising The Arabian Sea | | |
| 115 | Cruising The Arabian Sea | | |
| 116 | Salalah | 8:00 AM | 5:00 PM |
| 117 | Cruising The Arabian Sea | | |
| 118 | Muscat | 8:00 AM | 5:00 PM |
| 119 | Dubai | 1:00 PM | |
| 120 | Dubai | | 7:00 PM |
| 121 | Fujairah | 9:00 AM | 6:00 PM |
| 122 | Cruising The Arabian Sea | | |
| 123 | Cruising The Arabian Sea | | |
| 124 | Mumbai | 8:00 AM | |
| 125 | Mumbai | | 5:00 PM |
| 126 | Goa (Mormugao) | 9:00 AM | 7:00 PM |
| 127 | Mangalore | 8:00 AM | 5:00 PM |
| 128 | Cochin (Kochi) | 8:00 AM | 5:00 PM |
| 129 | Colombo | 1:00 PM | |
| 130 | Colombo | | 6:00 PM |
| 131 | Cruising The Bay Of Bengal | | |
| 132 | Cruising The Bay Of Bengal | | |
| 133 | Cruising The Andaman Sea | | |
| 134 | Yangon | 8:00 AM | |
| 135 | Yangon | | |
| 136 | Yangon | | 5:00 PM |
| 137 | Cruising The Andaman Sea | | |
| 138 | Phuket | 8:00 AM | 5:00 PM |
| 139 | Penang | 8:00 AM | 5:00 PM |
| 140 | Kuala Lumpur (Port Klang) | 7:00 AM | 6:00 PM |
| 141 | Singapore | 1:00 PM | |
| 142 | Singapore | | 6:00 PM |
| 143 | Cruising The Gulf Of Thailand | | |
| 144 | Ko Samui | 8:00 AM | 5:00 PM |
| 145 | Bangkok | 10:00 AM | |
| 146 | Bangkok | | 3:00 PM |
| 147 | Sihanoukville | 10:00 AM | 10:00 PM |
| 148 | Cruising The South China Sea | | |
| 149 | Saigon (Ho Chi Minh City) | 8:00 AM | |
| 150 | Saigon (Ho Chi Minh City) | | 3:00 PM |
| 151 | Nha Trang | 9:00 AM | 5:00 PM |
| 152 | Hue (Chan May) | 12:00 PM | |
| 153 | Hue (Chan May) | | 3:00 PM |
| 154 | Hanoi (Ha Long Bay) | 9:00 AM | 9:00 PM |
| 155 | Cruising The South China Sea | | |
| 156 | Hong Kong | 8:00 AM | |
| 157 | Hong Kong | | 5:00 PM |
| 158 | Xiamen | 1:00 PM | |
| 159 | Xiamen | | 2:00 PM |
| 160 | Cruising The East China Sea | | |
| 161 | Shanghai | 7:00 AM | |
| 162 | Shanghai | | 6:00 PM |
| 163 | Cruising The Yellow Sea | | |
| 164 | Beijing (Tianjin) | 2:00 PM | |
| 165 | Beijing (Tianjin) | | 7:00 PM |
| 166 | Dalian | 9:00 AM | 7:00 PM |
| 167 | Cruising The Yellow Sea | | |
| 168 | Moji | 11:00 AM | 11:00 PM |
| 169 | Nagasaki | 11:00 AM | 7:00 PM |
| 170 | Kagoshima | 7:00 AM | 3:00 PM |
| 171 | Hiroshima | 10:00 AM | 7:00 PM |
| 172 | Kyoto (Kobe) | 9:00 AM | |
| 173 | Kyoto (Kobe) | | 3:00 PM |
| 174 | Shimizu | 12:00 PM | 8:00 PM |
| 175 | Tokyo | 8:00 AM | |
| 176 | Tokyo | | 7:00 PM |
| 177 | Cruising The Pacific Ocean | | |
| 178 | Aomori | 8:00 AM | 11:00 PM |
| 179 | Hakodate (Hokkaido) | 7:00 AM | 4:00 PM |
| 180 | Cruising The Pacific Ocean | | |
| 181 | Cruising The Pacific Ocean | | |
| 182 | To Be Determined | | |
| 183 | Cruising The Bering Sea | | |
| 183 | Int'l Date Line East | | |
| 184 | Cruising The Bering Sea | | |
| 185 | Dutch Harbor | 7:00 AM | 6:00 PM |
| 186 | Cruising The Pacific Ocean | | |
| 187 | Kodiak | 8:00 AM | 6:00 PM |
| 188 | Seward | 7:00 AM | 5:00 PM |
| 189 | Cruising Hubbard Glacier | | |
| 190 | Sitka | 10:30 AM | 8:00 PM |
| 191 | Ketchikan | 12:00 PM | 10:00 PM |
| 192 | Prince Rupert | 8:00 AM | 8:00 PM |
| 193 | Cruising The Inside Passage | | |
| 194 | Victoria | 9:00 AM | 6:00 PM |
| 195 | Astoria | 9:00 AM | 6:00 PM |
| 196 | Cruising The Pacific Ocean | | |
| 197 | San Francisco | 8:00 AM | |
| 198 | San Francisco | | 5:00 PM |
| 199 | Cruising The Pacific Ocean | | |
| 200 | Cruising The Pacific Ocean | | |
| 201 | Cabo San Lucas | 1:00 PM | 8:00 PM |
| 202 | Cruising The Pacific Ocean | | |
| 203 | Zihuatanejo (Ixtapa) | 7:00 AM | 3:00 PM |
| 204 | Cruising The Pacific Ocean | | |
| 205 | Puerto Quetzal | 8:00 AM | 5:00 PM |
| 206 | Corinto | 8:00 AM | 4:00 PM |
| 207 | Puntarenas | 10:00 AM | 8:00 PM |
| 208 | Cruising The Pacific Ocean | | |
| 209 | Panama Canal Daylight Transit | | |
| 210 | Cartagena | 11:00 AM | 5:00 PM |
| 211 | Cruising The Caribbean Sea | | |
| 212 | Cruising The Atlantic Ocean | | |
| 213 | Great Stirrup Cay | 10:00 AM | 7:00 PM |
| 214 | Miami | 7:00 AM | |